6" Thin (fits best in XS/SM)
6" Thick (fits best in MD/LG/XL/XXL)
12" Thick (fits best in MD/LG/XL/XXL)
BEST DEAL: 10% off with $3 flat rate shipping
Easily modify frequency & quantity
Great for Dogs of All Sizes & Ages
A Single-Ingredient Treat
Get ready to pamper your pup with our all-natural, single-ingredient collagen sticks. Sourced from South American cattle, our collagen sticks offer a multitude of mental and physical health benefits, including support for joints, bones and gut health! These dog-approved long-term chews fit safely inside the World's Safest long term chew device, the Bow Wow Buddy.
•
Fits in the Bow Wow Buddy
•
Provides structural bone support and strength
•
Caloric Content: 3,100 kCal ME/kg
•
Ingredients: 100% beef collagen
•
Sourced: Guatemalan cattle
•
6" thin avg 70kcals/stick
•
6" thick avg 110kcals/stick
•
12" thick avg 220kcals/stick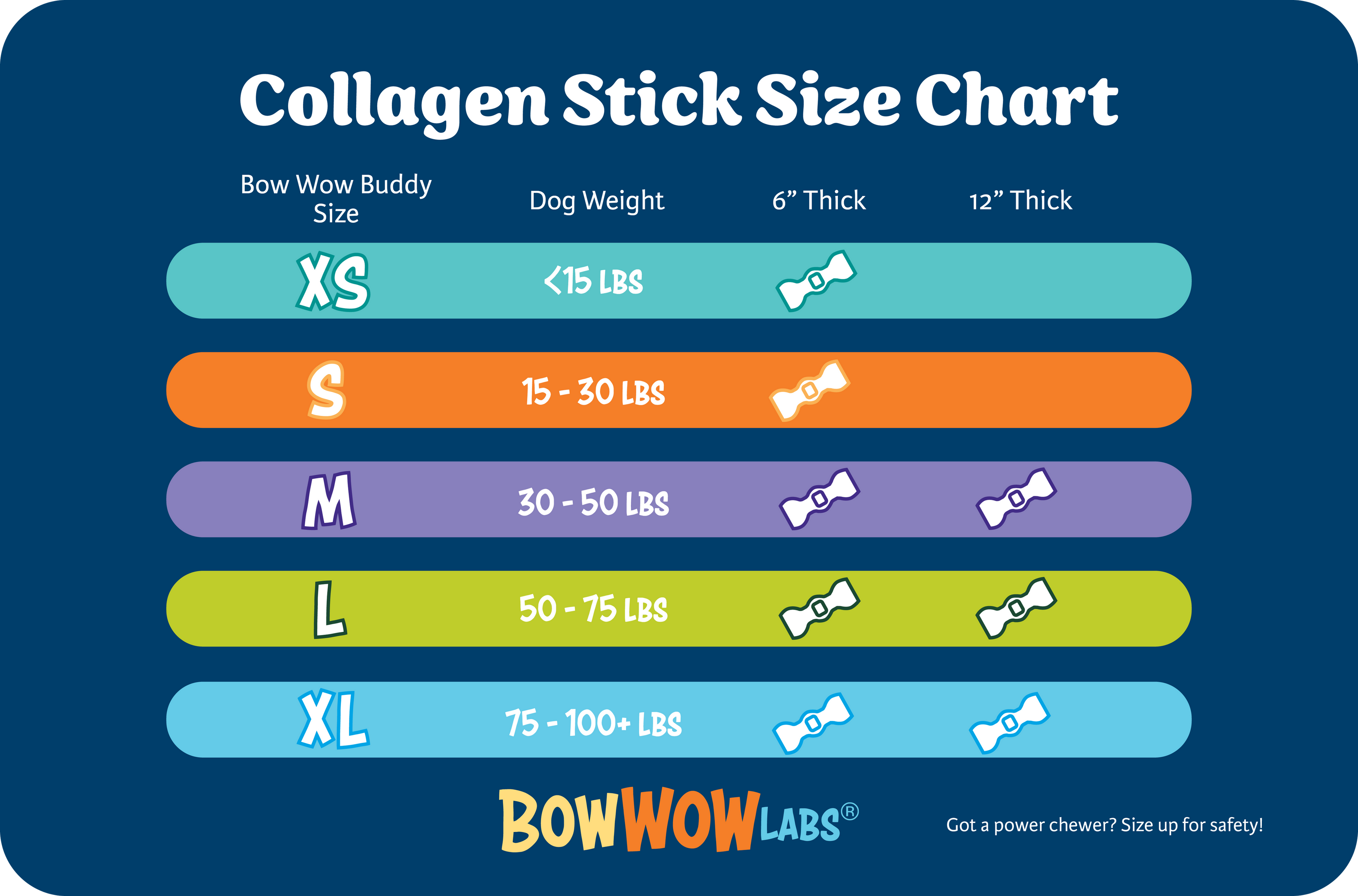 Learn More
Collagen Stick Benefits
Our Collagen Sticks contain a single ingredient that provides high-quality protein while being free from grains, gluten, and excess fat.
Fits in the Bow Wow Buddy
Thoughtfully sized to fit perfectly within the Bow Wow Buddy, eliminating the risk of choking and ensuring a secure chewing experience.
Chewing on our Collagen Sticks can assist in maintaining your dog's dental hygiene by reducing the buildup of plaque and tartar, promoting healthier teeth and gums.
Collagen supports joint health as it is a vital component of connective tissues, such as cartilage, which cushions and supports joints. By consuming collagen, you may help support joint health, reduce joint pain, and improve mobility.
Collagen contains specific amino acids, such as glycine and glutamine, that can support the integrity and health of the gut lining. This can help improve digestion, reduce gut inflammation, and support a healthy gut microbiome.
Provides structural bone support and strength
Collagen is also an essential component of bones, providing structural support and strength. Consuming collagen may help support bone density, prevent bone loss, and promote overall bone health.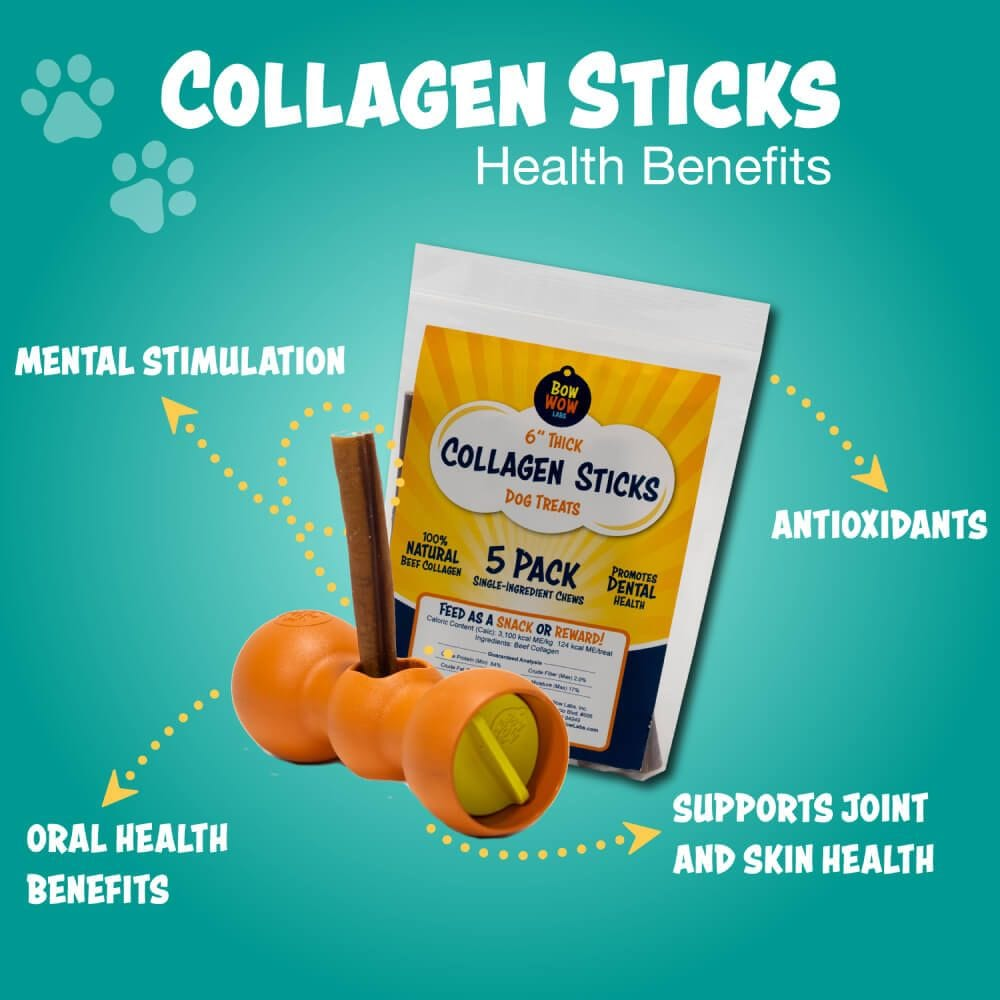 See For yourself
Collagen Sticks

Reviews
Frequently Bought
Shop our favorites
Your package will be on its way within 2-3 business days of order placement. Timing of arrival depends on the delivery option chosen at time of checkout; orders placed on/around holidays may result in longer shipping times.
We pride ourselves on our unwavering commitment to great customer service. If you have a question, need a product recommendation or have an issue with your order–we are here to help!
100% Satisfaction Guarantee
If for any reason you (or your pet) are not 100% satisfied with any Bow Wow Labs product, simply click
HERE
to share your feedback and give us the opportunity to make it right with our no-hassle, free replacement or full refund promise.